Let the Adventures Begin!
I'm off on an adventure!
Just in time for the Olympics!
I may not be a certified Olympian, but this epic adventure is needing my mind-body-spirit focus just like the Olympians need!
Would love your energetic vibes to be with me as I hike along the John Muir Trail!
You can follow my posts and pictures on the following: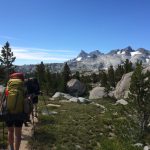 What is your adventure this summer?
Check out the next post to get some "tips" for creating an adventure-even in your own backyard!