HypnoBirthing®"The Mongan Method"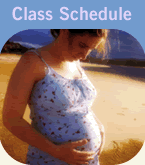 Reduce fear, tension and pain
Shorten your labor by several hours

Support prenatal bonding with your baby

Bring greater joy to your childbirth

Facilitate your postnatal recovery

And more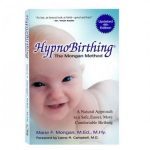 Experiencing childbirth comfortably is both an art and a joy.
HypnoBirthing®, "The Mongan Method" is as much a philosophy of birth as a technique for achieving a relaxing and stress-free labor. This method facilitates comfort by bringing your body and mind into harmony using special breathing, hypnosis, relaxation and visualization techniques.
During HypnoBirthing® classes you and your partner will learn ways to promote a more comfortable childbirth through self-hypnosis, guided imagery and special breathing techniques. These tools will enable you to relax while remaining awake, alert and fully in control as you welcome your baby into the world.
Taught in accordance with HypnoBirthing® Institute protocol, these five 2 ½-hour sessions with Jackie, who is an affiliate of the HypnoBirthing® Institute, are specially designed to help you learn:
– Relaxation and self-hypnosis techniques to eliminate the fear and tension that   cause long labor and pain, replacing it with confidence, calm and comfort.
– Other techniques to produce a shorter, more comfortable labor.
– The creation of the body's own natural anesthesia.
– The source of the myth that pain must accompany normal birthing.
– Why women in other cultures have birthing almost entirely free of discomfort.
– How the mother's body is designed to work in neuromuscular harmony with   nature throughout labor.
– Practice in deep relaxation during and between uterine surges.
– The importance of prenatal and perinatal bonding.
Jackie, an affiliate of the HypnoBirthing® Institute,  regularly teaches HypnoBirthing® classes at Evergreen Hospital Medical Center in Kirkland, Washington.
COVID-19 UPDATE:
Until further notice, all HypnoBirthing classes, either private or group, will be taught virtually.
Please refer to EvergreenHealth (formerly Evergreen Hospital) for their current policy and contact Jackie to learn how her private sessions are being conducted.
We have your and your baby's health, safety and well being as our priority.
HypnoBirthing® Video
About HypnoBirthing®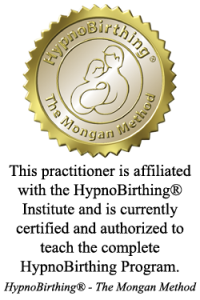 Developed by Marie Mongan in 1989 and based on natural childbirth practices developed by English obstretician Dr. Grantly Dick-Read, HypnoBirthing® "The Mongan Method" will help you replace the fear that causes tension and pain with a sense of joyful calm. Learn more from the HypnoBirthing® Institute.
The HypnoBirthing® Advantage
– A safer birthing for mother and baby
– Shorter, more comfortable birthing
– A special, integral role for Birthing Companion
– Fewer incidences of need for medication
– Fewer breech presentations
– Fewer complications and easier resolution in the event of complication
– An awake, refreshed, and energized birthing mother
– A better outcome for mother and baby
– A calm, peaceful birthing environment
– Good natured babies who are better sleepers and eaters
– Happy parents who experience a serene, joyful birthing rather than a tense,   stressful ordeal
What the experts say
"[HypnoBirthing®] has been one of the few things that I have done in the past several years that has truly changed the way that I practice obstetrics. HypnoBirthing® has brought the birth experience to a new level of enjoyment, not only for the birthing woman and her birth companion, but also for me as a practitioner. Certainly, nine times out of ten, when the babies come out, they are calm and very content and go to the breast immediately. The mother is alert and involved in the birthing process and in bringing her baby to the breast and helping the baby to breast feed. All in all, HypnoBirthing® is a wonderful birth experience."
Dr. Jeffrey Segil, FACOG, Dover Women's Health Center
"Yesterday I was honored to be present at another wonderful Hypnobirth. Dad called me at 2:00 PM to say Mom was beginning to labor. She was at home relaxing and asked that I arrive in about an hour. At 3:00 I arrived at her home to find her lying in her bed, looking very serene and goddess like as she was breathing through her surges. I told Mom that she could move to the birth center any time now. She said that she didn't want to move because she was so comfortable. Mom began to lovingly breathe her baby down. She was so wonderfully in tune with her birthing instincts that she needed no instruction. A short time later she gently pressed down and her baby's head emerged. Another time and a sweet baby girl was born It was such a beautiful display of love and trust! Once again, I am in awe of the power of it all!" Vivian Keeler D.C., HBCE, CD (DONA)
"I have made the transition to HypnoBirthing®-The Mongan Method. I now believe that birthing involves no pain. I have attended over 250 births that have used the techniques and philosophy of HypnoBirthing® – "The Mongan Method". I realize that I no longer perform deliveries; I attend births and observe the miracle of HypnoBirthing®-The Mongan Method. Every mother has been excited about the birth event. Support people become involved in a meaningful way. I have had no complications. No babies have needed Oxygen or any support other than warming by mother's body. My C-Section rate is 3%. I have given absolutely no analgesic drugs since I have used HypnoBirthing® -The Mongan Method with mothers."
Lorne R. Campbell Sr. M.D. Atlanta Medical Center Family Residency Program
"I'm impressed! I'm impressed! I'm impressed!
OB-GYN Physician
"It's beautiful! This is the way all babies should come into the world.
Labor & Delivery Nurse
"I've been delivering babies for twenty years, and I've never seen anything like this method. It's incredible."
Ob-Gyn Physician
Get Started Today