Breathe Easy…Being Smoke Free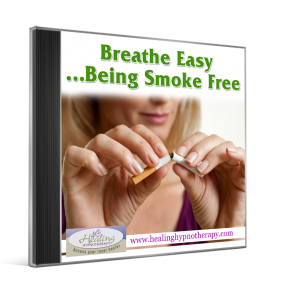 Tired of smoking?  Are you ready to be free of this unhealthy habit?
Then get support with this audio! Breathe Easy…Being Smoke Free gives you the focus you need to reach your goal.

You'll use your powerful inner mind to create new ways of thinking and behaving, which leads you taking the right steps to be smoke free.
You'll love Breathing Easy…Being Smoke Free!
As everyone has different triggers and habits in relationship to smoking, this audio is a great adjunct to getting private customized support with Healing Hypnotherapy's Mind Coaching Stop Smoking Program.
Learn more with this free phone discovery session.
Includes 3 hypnosis and guided imagery tracks and an introduction track: 
Introductory Track
Track 1: Breathing in Calmness-A quick 10 minute guided relaxation.
Track 2:  Journey Into Breathing Easy..Being Smoke Free-Take a journey into your subconscious mind.
Track 3: Affirmations for Being Smoke Free-This track is one you can listen to anytime, as it supports you in being focused on empowering thoughts and gives you the mind set for success.
| | |
| --- | --- |
| Instant Download Price: $15.00 | |
| | |
For other payment options, Contact Jackie:
Phone: (425) 227-8210
Email: Jackie@JackieFoskett.com