Stress & Other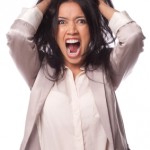 "I was referred to Jackie by my primary care physician for help with high stress, anxiety, and self-esteem issues.  After spending time with Jackie and her stress release program, I made a remarkable transformation in my life. With her guidance and wisdom, I now have the tools to relax and let go, allowing me to be in control by not trying to control.  I have reconnected with
my loved ones and am living each day in a purposeful way. Thank you Jackie for showing me the "oars" so I can navigate the waters of life with calm skill and much gratitude."
Teri F. Seattle, WA
"When I began seeing Jackie I was emotionally drained, on anxiety medication, and could not eat or sleep. My immune system was shot. When my doctor recommended Jackie, I was skeptical but after just a few sessions I saw a difference. My family and friends did too. I learned how to relax my body and consciously recognize when my mind was dwelling on negative thoughts and experiences, letting them go as they were not serving my goals of a happy, healthy life.  I learned to prevent negative people, thoughts, and experiences from affecting me emotionally. Today, I am much happier and healthier, and no longer take medication. I have no doubt that I was able to turn my life around because of Jackie and the practice of hypnotherapy!"
Tracie F.  Seattle, WA
"Hypnotherapy helped me bring to the surface feelings that I had buried deep down below, which proved to be the source of my anxiety and depression. It also reconnected me with my core strengths of which I wasn't necessarily conscious. I now have a reserve pool of strength to draw from and have learned how to focus and free myself from panic attacks." Milena W.  Seattle, WA
"I've tried conventional counseling and therapy but found your methods more effective with longer-lasting results. Hypnosis allowed me to be honest with myself, explore deeper parts of my subconscious and come to terms with what was holding me back. I feel that I now understand myself better, have more effective tools for coping with stress and see a much brighter future. Thank you for being so supportive, wise, and open-minded." Beth C., WA
"Over the past several years, I have visited at least a dozen hypnotherapists and I would have to say that Jackie is the best; she is top-notch. Not only in her skills as a hypnotherapist, but her natural ability to get to the core of the issue, know how to navigate through the chasms of the subconscious and then support the client. She is unique in her patience, support, and guidance. She provides invaluable tools to helping anyone on their healing journey.  I now have access to my internal strength and my own power, as well as knowing all "aspects" of me are now working together towards my greater good." Nadine W., Seattle, WA
"I went to Jackie when I was having stress relating to medical issues.  Jackie's use of hypnotherapy helped me put those in perspective and I am now able to deal with these issues in a calm manner.  While learning calmness and relaxation for the medical issues, I have found that my daily life is now more enjoyable with less stress and more calmness as well.  Life is much more enjoyable this way." Evelyn J., Seattle, WA
Weight Loss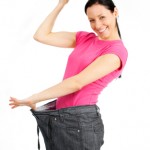 I went to Jackie for weight loss issues and she helped me to see what was behind my eating problems. The hypnotherapy helped me focus on my goals of losing weight and making it a lifetime commitment to myself. I came to realize that with a plan in mind and using hypnotherapy to reinforce my objective, I would be committed to reaching and maintaining my goal of weight management.
Cris C.   Seattle, WA
"When I turned to hypnotherapy for weight loss issues, I was skeptical. But then I met Jackie and knew right away that I could trust her and feel comfortable during my sessions. I was hoping for a miracle, that I would wake up from a trance and be 15 pounds lighter, but the actual results went deeper. I discovered the issues behind my weight and why I felt so badly about my body. I truly enjoyed Jackie's program and left with skills that I can apply to everyday life. I am still working on my weight but have successfully left behind a lot of the negative perceptions I'd been holding onto."
Kim E.  Kirkland, WA
"Jackie was wonderful to work with. I looked forward to our visits as her calm demeanor was a great escape from life's chaos. She provided unconditional support and encouragement and allowed me to speak & think freely. I am most thankful for having an ear to borrow and a shoulder to lean on – thank you, Jackie!" "
Angie B.  Seattle, WA
"Jackie Foskett is especially attentive to her clients and their needs. I was very impressed with her dedication and helpfulness, which helped me have a good experience in the Weight Release Program.  I lost the weight that I wanted and still use the techniques that I learned.  She is very professional, yet friendly."
Loretta O.  Bellevue, WA
Fertility

"I have been meaning for some time to provide testimony on my experience as Jackie's client. In 2011, after nearly a year of trying to conceive my husband and I was given the news that I was infertile due to having a very high follicular stimulating hormone (FSH). Essentially, I was told that I had "old eggs" at the age of 33, and the odds of us becoming pregnant with a healthy child were extremely unlikely. We were devastated. After some reflection, my husband and I decided that we would pursue IVF, but I knew that I would need to do everything I could to ensure my mind and body were as healthy as possible in order to increase my odds of success.

I wanted to be certain that I was not allowing fear to control my decisions and inhibit my chances to have a baby. Hypnotherapy seemed like a good option to help me sort through the grief and anxiousness I was feeling about the diagnosis as well as the upcoming IVF process. I found Jackie online and was certain she was the person to help me in this journey after our first meeting. Jackie is a gifted and compassionate practitioner. The guided meditations were extremely helpful to provide me clarity on my desire to pursue a family. I think it can be easy to get so focused on the pregnancy that you can lose sight of yourself.
I found our sessions incredibly helpful to allow me to tap into my intuition which kept saying a family was possible. I listened to the recorded sessions throughout the next several months as I went through three IVF attempts. After taking a few months off, I had a healthy spontaneous pregnancy and gave birth to a beautiful baby boy in June 2012. I am grateful to Jackie for showing me how to hold space for myself and reminding me to give myself permission to listen to my inner voice. I endorse Jackie to anyone looking to overcome fear and reduce stress in their life.
Teresa Savarino, MSA, L.Ac.
teresa@acupuncturesavvy.com
206-414-9590
HypnoBirthing®
"I really attribute my short labor to all the deep breathing and visualization I learned through HypnoBirthing®. I have also recovered very quickly myself and I truly believe it all had to do with you, Archie (husband), and the HypnoBirthing® method." Deb H.  Seattle, WA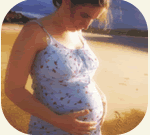 "Jackie, Thank you so much for all of your help in preparing us for our labor. The Hypnobirthing® techniques allowed us to have a beautiful birth experience. Cassidy came into this world with Peace and Love surrounding her. We know that in future births, Hypnobirthing® will definitely be a part of our preparation."
Natalie & Kevin L.   Sumner, WA
"After having two babies with epidurals, my HypnoBirthing® experience was totally different. I felt more relaxed and focused than I imagined possible. Of my three children, my HypnoBirthing® baby has been the happisest and easiest to care for. HypnoBirthing works and I'm so happy to have experienced it!"
Becky M. Bellevue, WA
"HypnoBirthing® helped me feel calm and confident about the birthing process. I was also prepared and excited. My birth was smooth, easy, & relaxed. My baby has been very relaxed and calm, as well. I felt so proud when my midwife told me after the birth that she could not tell when I was having contractions!" Katy V. Seattle, WA
"It was wonderful. I was able to give birth without any medications. I felt really happy about how everything went and I'm a more confident person now. It was empowering. In these days, when the use of medications and doubt about women's ability to give birth are promoted, HypnoBirthing® allowed me to have my beliefs reinforced. The relaxation exercises also helped me sleep better during my pregnancy and have helped me during nursing my baby." Gizela B. Redmond, WA
"The HypnoBirthing® techniques we learned in class were very helpful for us.  While I was breathing her (Emma) down, Zach coached me. He helped me focus my breath to breathe the baby down.  I utilized the other breathing techniques throughout the day and in the beginning part of active labor as well.  We feel the class was excellent preparation for labor.  Thank you, Jackie, for your wisdom and offering of this class to us!  We are forever grateful to you for your guidance and giving us the confidence to have a natural birth".  Julia & Zach K., Seattle, WA
"Hi, Jackie! Our little girl was born on June 26th, 2021. Labor was fairly quick and went really well! Hypnobirthing helped a lot with preparing for labor and keeping my mind at ease. . In early labor the audios were great and I could put myself in my "happy place. With each surge, I kept telling myself to give in instead of fighting or clenching  (this was difficult to do at some points) and I think it helped the most. My husband was there to remind me to relax which was extremely helpful. . I did all of this without an epidural and so thankful I did! I think it was important for my body and baby to go through the natural hormone process. As a first-time mom, I was in active labor for about 6 hours and was able to move freely, try different positions, and used the tub as I pleased. All of these sped my dilation up. I jumped from a 5cm to a 10cm in a matter of 3 hours!" Alexa & Scott Carnation, WA
Dental Professionals
"I wanted to let you know how much I enjoyed your presentation "Healing Hypnotherapy: Relaxation Techniques for Dental Patients".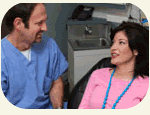 As Director of THE GENESIS GROUP: The Continuing Education for Dental Hygienists, I found your information invaluable and your demeanor perfect for allowing the participants to not only hear the information but sense it for themselves.
"Because of your background as a dental hygienist, you truly understand the challenges of treating anxious and fearful patients. It can be time-consuming and stressful for everyone and often the patient ends up leaving even more anxious than before. Your presentation provided suggestions for working with fearful patients to allow them to experience dental treatment feeling calm, stress-free, and relaxed, all without the use of drugs. Thank you again for your presentation!" Kathy S. Forbes, RDH, BS, Director, THE GENESIS GROUP