Here's some interesting facts about the John Muir Trail!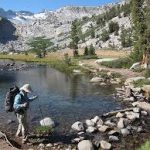 My husband, myself and 4 others will do a section of the John Muir Trail this August, 2016!
We've been doing lots of preparation for quite a few months now and I'm looking forward to finally getting out there to enjoy the beauty of it and to see how my training-both physically and mentally has paid off!
Look here for updates on my hike!