The Holidays:To Stress or Not to Stress! Free Gift For YOU!
Thoughts to Share:
I'm amazed it's been 2 years since I published my book: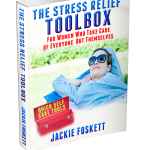 The Stress Relief Toolbox: For Women Who Take Care of Everyone But Themselves! just a little over 2 years ago now!
Wow! Sometimes I find it hard to believe it's already been published that long!
At one time, I thought it might never happen!
Talk about stress! Boy did I ever have to apply these tools for myself during those times of doubt and deadlines!
It did happen and I've enjoyed hearing from people who have read it and used it to help them deal with everyday stresses in life.
And, I've created and facilitated quite a few workshops, teleseminars and webinars based on the work in this book.
I love the responses I receive at these live events-how simple easy to do tools make such a difference in people's lives.
And…I love supporting people in wanting to have their lives run more smoothly and feel more joyful.
Why am I sharing this with you?
Well, as we are now into the holiday season, which can be stressful for so many people, and to celebrate my 2 years of being a published author, I want to be sure the tools in this book are available to as many people that need and want them as possible!
Here's who I know would benefit greatly from the tools in this book:
Busy, overwhelmed new moms or dads
Women who have work/career responsibilities and are also moms trying to juggle so many things on a daily basis and always come up feeling like they are failing!
Women of all ages, who use food to stuff down their worries and stresses and feel powerless to stop the mindless eating.
All the above who are now feeling pressure from the holiday "blitz!"
Since I happen to love the holidays and all things related to Santa, as well as the joy I get of giving special gifts to others, I want to make sure you, my readers, benefit from my Ho Ho Ho nature this holiday season!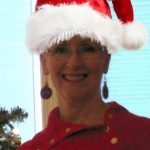 Here's what my Inner Santa is going to gift you:
A reduced price on the print version of my book: was-$14.95-

now $10.95

 
A reduced price on the Kindle version of my book: was-$9.99–

now $6.99

 
4 Weeks of FREE mp3 downloadable audios to support you during the holidays.
A Special Hypno-Coaching/Hypnosis

$97.00 phone session

($175 value)

 Must get on the schedule before 12/20!
Use this 1 hour phone session for:

Having a less stress this Holiday season
Having a mindset for navigating the holiday foods in a much more empowered manner!
Set goals-with your subconscious mind-for 2018!
Anything else you'd like to work on!
Click on the links to get your printed or Kindle books for yourself or as gifts-your gift receivers will know you care deeply for their well being when they open up this gift of empowerment!
Be sure to download the audios that I'll be sending in a short email each week.
The theme of each email will be around stress relief for the holidays (and of course it will apply to other times as well).
Along with the brief article/tip, you'll receive a link to a very short audio for stress relief.
I know from personal experience and from the testimonials of my clients, just taking even 5 short minutes to listen to an audio that has you clear your mind of those stressful thoughts and bring in feelings of calm, can set a positive tone for the rest of your day.
I am encouraging you to use these audios daily. They will make a huge difference in how you experience the Holidays. Really.
And, please feel free to use the week's audio more than once a day. When you think about it, isn't 5 minutes of focus time for you, a few times a day, worth more than those same 5 minutes of feeling distressed, upset and out of sorts? I'm going to bet you agree.
Please post your experiences below. I'd love for you share your positive feelings with others.
When you share your good feelings with people you don't even know, you are giving others a gift that has a ripple effect way beyond what you can even imagine.
I believe that is the true spirit of the season, wouldn't you say so, too?
Be a Santa or an Angel and spread the good cheer of good feelings and I promise you will feel a positive impact on your own well being.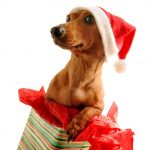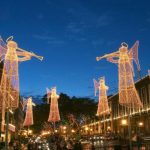 Wishing you lots of good cheer and positive experiences this holiday season!
Jackie
Here is your first Holiday Stress Relief Audio