Change The Way You See It
When You Can't Change It, Change the Way You See It
Environmental Stress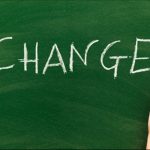 Environmental stress is the stress that you can do absolutely nothing about. This includes things like the weather, traffic, and being stuck in the slowest line at the post office.
Since there is not much we can do about environmental stressors, an effective way to deal with them is to let go of the hold they have on us and reframe the experience.
Here are a 2 simple ways to re-frame an environmental stressor:
For example, instead of being overwhelmed by piles of laundry, you can say to yourself, "I'm so fortunate to have all these clothes to wear."
Or when you are stuck in the slowest line at the grocery store, you can look at your cart full of food and remember to be grateful that you can buy what you need.
Practicing gratitude turns the light on in your heart. You can't be stressed out, impatient or worried about that which you can't control when you are in a state of gratitude.
For example, try keeping audiobooks in your car or listen to podcasts to make your slow commute more tolerable.
As you drive you can listen to entertaining or educational materials that you wouldn't make time for otherwise.
Or you can carry a magazine or book to read when you are encountered with unexpected delays such as standing in a line.
By being pro-active, by having tools in your "pocket" to use before the situation throws you into stressed out mode, you put yourself in the drivers seat, instead of the stressor!
By letting go and reframing the experience, you will find that you can take environmental stress in stride.
Love your comments!
Love your comments!