Wow! Time sure does fly. I know this is a cliché, but it is so true! We're almost through half of 2015!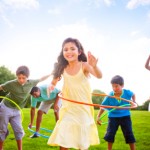 I remember thinking at the end of December how the end of June 2015 seemed so far out into the future.
The future is now here!
Hope all you dads had a great Father's Day on the longest day of the year!
Here in the Northwest, we are very appreciative of the summer solstice due to its signal of "official" summer. We all seem to relish the long days (approximately 16 hours of daylight) and the warm weather. Usually we have to wait though until July to really get summer, but this year, it's here already. I'm loving it!
If you've been reading Mind Matters for more than a year, you know I'm a big fan of what I call "summertime mode."
"Summertime mode" is about allowing our playful spirits, our "inner child" to feel the freedom of ease and joy. It's a chance to re-balance, especially if you've been out of whack in the play/fun/ease department!
Speaking of re-balancing: I happy to have a guest blogger this month.
Nancy Carlstrom is an extraordinary life coach who knows how to put her words of wisdom to "paper." She has written an excellent article: "Hit Your Reset Button." From my perspective, she addresses this issue of being in balance when you set powerful intentions for the rest of your year. By doing so you set yourself up for success to actualize what you envisioned for yourself 6 months ago!
Please read it and comment on it, as I know her insights and suggestions will benefit you and bring in a deeper awareness of how to live your best life. Naturally, I'm loving what she says because her suggestions and tips are in alignment with my philosophy and how I support my clients and readers to live their best lives.
Life lived from intentionality produces a more engaged life with less stress and more inner peace.
As a Stress Relief Specialist and soon to be a published author of "The Stress Relief Toolbox: for Women Who Take Care of Everyone but Themselves," I am a big proponent of more inner peace!
A reminder: There are hundreds of free gifts waiting for you in the Healthy, Wealthy & Wise free give-away. Here's another way to stay in balance, have a healthy summer and hit the "reset" button. If you haven't visited the site, please do, as it will be ending very soon.
As always, I invite you to share your thoughts on this post or any of the other ones, or anything else you'd like to comment on that is relevant to hypnosis, stress, living your best life, etc.  I love hearing from you. Let's dialogue and keep engaged.
Warmly,