Hit Your Reset Button by Nancy Carlstrom
Half of 2015 is just about behind us – unbelievable! If you've forgotten about the dreams and desires you had at the beginning of the year, it's not too late to wake up and hit your reset button.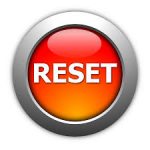 Trading in your current familiar zone for a year worth celebrating and owning the bragging rights to just six quick months from now is worth the effort.
Here are some simple ways you can refresh your life and re-inspire yourself:
CHECK IN WITH YOURSELF – What in your life still has you hungry for more, is causing suffering or keeps you shackled to the old version of yourself? What stories are you tired of telling and are willing to be liberated from? What are you ready to take on?
SACK YOUR EGO – Why? Because it never gets tired of weighing in, keeping you in the prison of your old limiting beliefs, past experiences, and fears. It tethers you to perpetual pain and misery and keeps you recycling your life in its effort to keeps you safe and the same.
SET ONE POWERFUL INTENTION – Really! Only this time, in the form of the powerful declaration
"I've decided …" Get deliberate and go out on a limb where you can hack a pattern and test your greatness. There's something you want to master by year end, boldly name it. And then …
TAKE A STEP – that supports your declaration. A small daily step interrupts routines and forces the brain to create new patterns. Set things in motion and energetically invite a universal response in the form of an opportunity or opened door. If you watch for them, you'll definitely see them!
CELEBRATE – Recognizing your progress and acknowledging big 'n small successes truly matters. It is the very way you build your belief that a new future is possible, and grow your trust and confidence that life is created one idea, intention and action at a time.
It's really not too late to get what you want this year! You are the only one responsible and hold all the power.
You can either wait for life's big reveal (I wouldn't recommend it tho, you'll only be getting more of what you're currently thinking and doing) or you can transform and transcend your past by getting real with yourself and making a fresh decision for a new future.
Hit your reset button; ignite a little passion and initiate some positive change. YOU are worth it!
Please share your comments about how you are planning to reset YOUR reset button with Nancy Carlstrom right here!