Here we are already looking Spring in the face, although, I imagine for many of you in other parts of the country it can't come soon enough!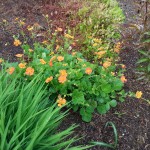 I love this time of the year! It feels so enlivening! I become more mindful and in awe of Mother Nature's presence, as I look around and see how beautifully she creates.
The "space" of winter, where Mother Nature takes a breather, and it appears as if nothing is happening, is exactly what it takes to get the grand results we now get to witness.
Could you use some "space" in your life?
Check out the article below: "Create More Space in Your Life" and see if giving yourself some breathing room might support you in having more inspired results in your life.
Wouldn't it be great to show up feeling enlivened, energized and restored?
I'm all for that!
Talking about feeling energized:
Check out Healing Hypnotherapy's offers for some "spring cleanups." There's nothing like a good clearing out of old limiting beliefs, excess baggage and dis-empowering habits to allow your best healthiest happiest self to shine!
Love to hear how your spring is looking for you and your plans to spring forward in YOUR life!