Fall makes her official appearance on Monday, September 22nd, but here in the Pacific Northwest, we have already begun to see Mother Nature's subtle signs change.
This "burning bush" in my front yard is definitely indicating "the seasons they are a changing!"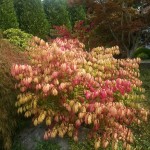 I love the colors of Fall and even though I'm a real "summertime" person, I actually relish the crisp new energy fall brings on.
It's that new school year feeling. I like how it gives a sense that there is something new to learn, new plans to make for the rest of the year and a return to routines supporting our daily busy lives.
I know so many people feel the same way and want to take advantage of this time to set goals and take the appropriate action steps now to move forward on those goals before the end of the year becomes busy with holiday activities.
That's what I'm up to!
I actually was in a big learning curve over the summer, too.
I attended two great conferences, HypnoThoughts.Live in July and the HypnoBirthing Conclave at the beginning of September.
I gleaned so many pearls of knowledge and wisdom from these conferences.
I also had the opportunity at the HB Conclave to present a mini workshop on "Breaking the Habit of Stress From the Inside Out."
It was a big hit with the participants  who attended, as they all realized how important it is for them, too, the HB educators, to give themselves the time out for stress relief.
&nbsp
I love supporting people in becoming mindful of getting the relief they need and how they can be proactive in nipping it in the bud!
I also participated in an online teleseries by Rose Muenker called "Writing From Source Breakthrough."
I loved this program, as it allowed me to access my own intuitive information about various aspects of my business. It guided me in the decision process very elegantly and directed me to taking the best action steps to support the guidance I received.
Now, the work I am focused on has more "juice" than ever before! It's really amazing!
So, I am enrolled again in Rose's WFS Breakthrough program that starts on Wednesday, September 24th.
 If you are needing to make decisions about something important in your personal life, your business or if you simply want to get more clarity around a particular project, or issue you are experiencing, this is the program to be in.
It's a collaborative group where support is bountiful!
This is a great way to start off the Fall season.
Let's play together! It will be fun.
For me, it's like being in self hypnosis and accessing solutions from a deeper place. I love it!
And, as most of you know, I'm all about stress relief and when you are getting this kind of information for yourself and taking the best action steps…you are supporting more calm and ease in your life!
Get more info or register right here.
It starts very soon, this Wednesday, the 24th, so while it's fresh on your mind, register now.
Rose is even offering a free coaching session for anyone registered by midnight Saturday, the 20th.
Grab the opportunity for change!
Hope to "see" you "falling into action!" on the "Writing From Source Breakthrough" program on Wednesday.
I'm excited about my life, my work, and all the new energy infused in entire being.
FYI: I'm getting closer to completing my book, "The Stress Relief Toolbox" for Women who take care of everyone but themselves.
It had been on hold since my long European vacation and my working on other things over the summer. I've picked it back up and am excited I can see its completion as a reality! Stay tuned for more on this!
Do check out the next "Stress Relief Tip #5," in this month's featured article. It's one of many you will be finding in my book.
As always, I enjoy hearing from you about any of my articles, what you are doing for stress relief and even just to say "hi."
Warmly,
Jackie