Wow, it's the end of February already! How did that happen?
2014 has taken off with wings and I've been flying along!
I really felt this year was going to be a high energy year for me and it seems to be the case.
One of my personal high energy endeavors is rock climbing! I recently started doing it regularly after many invitations from my wonderful husband who has been an alpine climber who transitioned to a rock climber many years ago.
He loves it and kept asking me to join him. I'd gone maybe a dozen times in the past to try it out both at the indoor gym and outside, but never thought of it as an activity I wanted to do.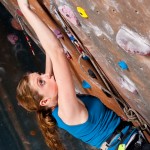 Well, a new year bring new desires! One of my goals within the vision I set for myself this year was to be more active and get more physically fit. So, I decided I wanted to join him.
He has a great time at the gym not only climbing, but socializing, too.  And, since he kept asking me, I figured why not give it a try.
Well, I took a class on belaying–which is knowing how to keep the person on the harness and who is climbing, nice and safe.
It's was a bit daunting at first….knowing I have that type of responsibility in my hands!
Thank goodness for the type of safety pulley systems/brake systems they have at the gym.  As long as you do what you've been taught, the person climbing is safe.
I'm feeling really good about my climbing progress, too…I'm getting stronger and reaching for more challenges each time I go.  I'm enjoying this challenge and process!
I would've never thought 20 years ago that at the age of 62 I'd be starting rock climbing. Just goes to show you, as a colleague of mine, Bonnie Fatio of Age Esteem says, "AgeEsteem motivates and challenges individuals to reach new heights in the prime of one's life."
Speaking of new heights…besides the view from high up on the wall when climbing….
I'm in the midst of writing my first book.  You may remember I sent out a survey about 4 months ago looking for some feedback on my topic.
I'm now challenging myself to write this book, which will be a "Stress Relief Toolbox" for women.
In fact, I'd love some feedback about the title, too.
Which do you prefer:
"The Stress Relief Toolbox"
For Women who put themselves at the bottom of the list!
Or
"The Stress Relief Toolbox"
For Women who take care of everyone but themselves!
It's interesting how this process of writing a book triggers my own stress responses!
My job is to keep learning new ways of changing that response and cultivating new and healthier responses.
I'll keep you updated!
Meanwhile, please post your preference of a title!
I'd deeply appreciate your input!
Warmly,
Jackie